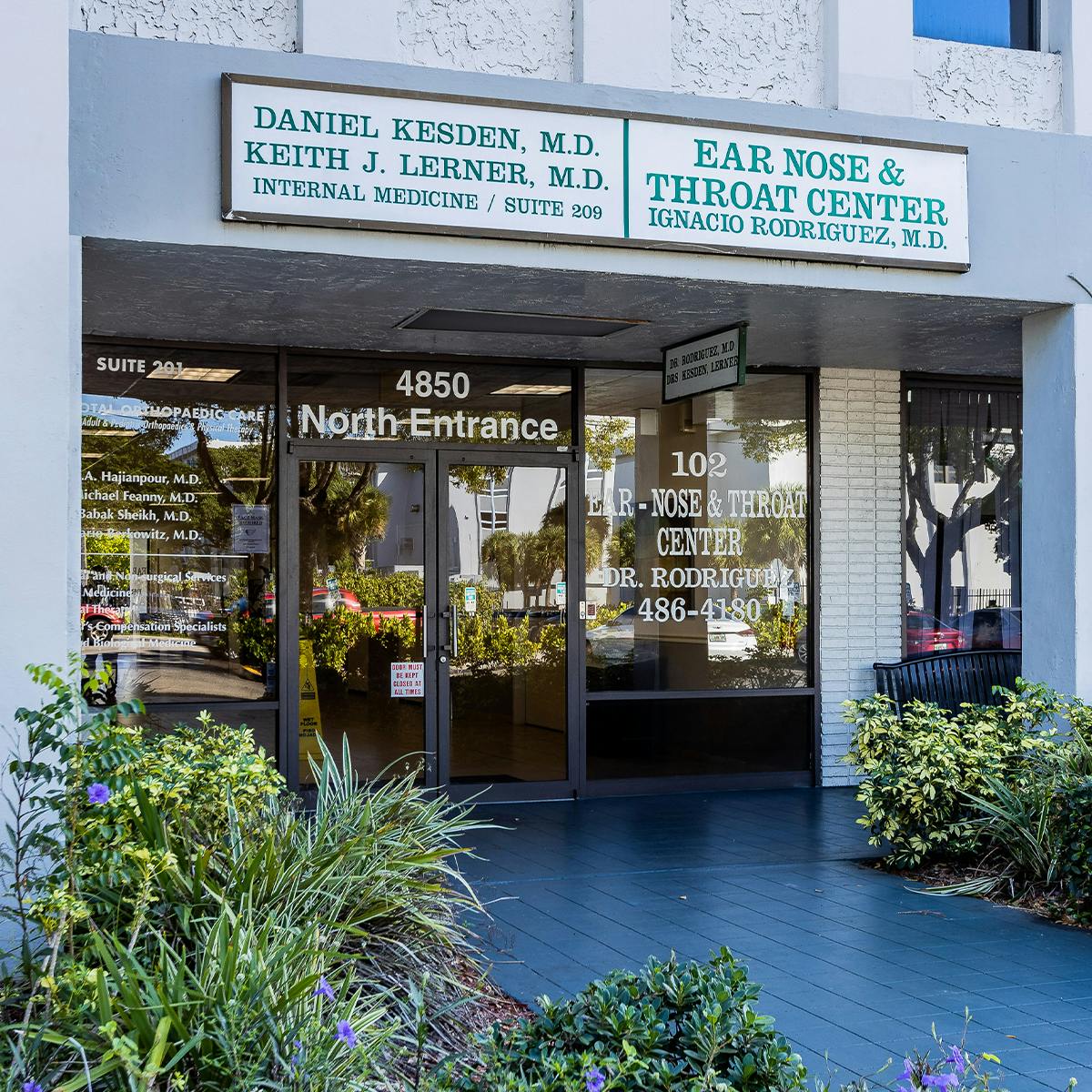 Back to search
4850 West Oakland Park Blvd, Fort Lauderdale
Ignacio Rodriguez, MD, a top ENT in Fort Lauderdale, is proud to serve the Fort Lauderdale community by offering the highest-quality medical care from this location.
---
Allergy
Allergies are the immune system responding to a typically harmless factor in your environment. This could be pollen, dust, or pet dander. Allergies can also come in the form of food or medication and may result in skin rashes, watery eyes, or congestion. Our allergists can help locate and treat a wide range of allergies.

Allergy treatments always begin with allergy testing in order to ensure the proper allergen has been located. Our Ft. Lauderdale ear, nose and throat office provides testing for food allergies, medication allergies, and environmental allergies. Once this is complete, we also offer treatments that include allergy shots, allergy drops, and biologic therapy to help patients achieve long-term relief.
Environmental Allergy
Immune Deficiency
Asthma Management
Hives and Eczema
Sinus
The sinuses are hollow cavities within the face that help humidify the air we breathe and drain mucus. Over time they can become blocked or infected, leading to pain or discomfort, as well as nasal congestion and drainage. Our Ft. Lauderdale ENT doctors can help locate the cause of your sinus concerns and recommend treatment.

Sinus treatment often has the goal of removing build-up or blockages from the sinuses. This can be achieved through several different methods of treatment, including balloon sinuplasty, nasal turbinate reduction, or sinus surgery. If you are interested in sinus treatment, contact our Ft. Lauderdale ENT office for more information.
Sinus Infections
Loss of Sense of Taste and Smell
Nasal Fractures
Deviated Nasal Septum
Congestion (Nasal Blockage)
Nasal Drainage
Sleep
Sleep allows us to rest and recharge after a busy day. When you don't get enough sleep, it can have a negative impact on your day and your mood. If you find yourself experiencing many consecutive sleepless nights, it may be caused by a sleep disorder such as snoring or sleep apnea. These conditions can interfere with your sleep and affect your breathing while asleep. Our sleep specialists can diagnose sleep conditions at our Ft. Lauderdale office.

Sleep apnea can often cause patients to snore, making it difficult to differentiate between the two. Our Ft. Lauderdale sleep specialists can help patients determine if they have sleep apnea through a sleep test. They can also help those experiencing sleep disorders find lasting relief through treatments that include CPAP machines and sleep apnea surgeries.
Ear
Our ears help us hear and maintain our balance. If you have begun to experience pain within the ears, a change in hearing abilities, or have noticed yourself being off-balance, you may have an ear condition. This could include dizziness, ear infections, or other ear disorders. Our Ft. Lauderdale ear, nose and throat doctors are experts in diagnosing and treating a wide range of conditions that affect the ears.

Ear treatment can range from simple in-office treatment to remove a build-up of wax to complex surgical procedures and everything in between. Our Ft. Lauderdale providers are experts in ear care and can help patients through treatments that include balance testing, ear tubes, repair of eardrum perforation, and the surgical treatment of chronic ear infections.
Ear Infections
Dizziness
Complicated Ear Disorders
Audiology
Audiology is the branch of science and medicine that is concerned with hearing loss. Our Ft. Lauderdale clinic is home to several highly-trained audiologists who can help patients experiencing varying degrees of hearing loss find solutions.

Hearing loss can be an emotional and sometimes even scary condition to experience. Our Ft. Lauderdale audiologists are prepared to be there for you every step of the way on your hearing loss journey. They will work with you to find a solution that works for your lifestyle and needs, ensuring you feel confident in their solutions.
Head & Neck
The head and neck can experience a host of unwanted conditions, including thyroid masses, neck masses, salivary gland masses, head and neck cancers, enlarged lymph nodes, abnormal parathyroid glands, and chronic tonsils and adenoid infections. Our Ft. Lauderdale providers can help patients experiencing these conditions find relief.

When a gland or tissue in the head and neck is experiencing an infection, inflammation, or cancer, it can cause side effects that can impact your abilities. For patients looking for long-term solutions to their head and neck concerns, SFENTA offers a range of treatments, including surgical procedures to remove unwanted glands and masses, as well as treatment addressing cancer present in the head and neck.
Thyroid Masses
Neck Masses
Salivary Glands Masses
Head and Neck Cancers Evaluation and Treatment
Enlarged Lymph Nodes
Abnormal Parathyroid Glands
Chronic Tonsils and Adenoid Infections
Voice & Swallowing
The voice and throat can be home to conditions including vocal cord tumors, vocal tremors and spasms, acid reflux, hoarseness, difficulty swallowing, and vocal cord nodules and polyps. These conditions can impact your ability to speak, change pitch, or swallow. Our Ft. Lauderdale specialists can help diagnose these conditions and recommend a comprehensive treatment path.

SFENTA's Ft. Lauderdale office can help patients experiencing voice and swallowing conditions find a road map to relief. This can be achieved through treatments that include vocal cord & voice examination, swallowing therapy, speech therapy, acid reflux testing, and treatments for complicated voice disorders.
Vocal Cord Tumors
Vocal Tremors and Spasms
Acid Reflux
Hoarseness
Difficulty Swallowing
Vocal Cord Nodules and Polyps
Facial Plastics
Facial plastic surgery has multiple benefits. It can help you look younger, change elements of your features you are unhappy with, and provide functional benefits such as improved breathing through the nose. Our Ft. Lauderdale surgeons are highly-experienced in facial plastic surgery and ready to help.

South Florida ENT Associates Ft. Lauderdale office is proud to offer a range of cosmetic surgical and non-surgical procedures to address your concerns. We offer facelifts and neck lift to help reduce sagging skin and turn back the clock on aging. Our surgeons also provide other treatments such as rhinoplasty, blepharoplasty, and more, to help you enhance your features.
Facial Skin Laxity
Drooping or Sagging Eyelids
Excess Facial Skin
Wrinkles of the Face or Neck
Uneven Nose
Oversized Ears
Undefined or Overdefined Chin
Allergy
Allergies are the immune system's abnormal response to a foreign substance around you. These are items that don't cause a reaction in all patients, but your immune system has found them to be harmful and reacted. Allergies can include environmental allergens such as dust and pollen, as well as food or medications.
Allergy Drops
Allergy Shots
Allergy Testing
Biologic Testing
Food Allergy Testing
Drug Allergy Testing
Asthma Management
Sinus
Your sinuses are hollow cavities that help found around the noses and eyes. Their walls are lined with mucus that helps filter and humidify our air. If this mucus does not drain properly, the sinuses can become blocked. This leads to problems such as sinus infections or other conditions.
Balloon Sinuplasty
Surgery for Nasal Polyps and Chronic Sinusitis
Septoplasty Deviated Septum Surgery
Nasal Turbinate Reduction
In-Office CT Imaging
Sleep
Sleep is an essential part of preparing yourself for the day ahead. We've all experienced the difficulties that a lousy night of sleep can cause. For those with sleep disorders, achieving a good night of sleep can be even more challenging and even require medical intervention to be achieved.
Evaluation of Sleep Apnea and Snoring
Airlift Procedure for Sleep Apnea
Prescribe And Monitor Cpap
Sleep Apnea Testing
Inspire Procedure
Sleep Apnea Surgery
Ear
The ears help us hear the sounds around us, as well as maintain our balance when we stand and walk. When pieces of the ear are infected or begin not to work properly, your hearing and balance can be impacted.
Ear Tubes
Ear Hygiene and Wax Removal
Repair of Eardrum Perforation
Balance Testing
Surgery for Chronic Ear Infections
Audiology
Audiology is the branch of medicine that deals with hearing. Our specialized audiologists help to determine the source of your hearing loss and work with you to utilize the available options that can help improve it.
Surgery to Repair Hearing
Hearing Aids Dispensing
Hearing Aids Programming and Maintenance
Hearing Testing
Cochlear Implants
Head & Neck
The head and neck are hosts to different types of glands that help us maintain our health. Much like other areas of the body, the head and neck and the glands within can experience infection, swelling, and cancer. This can affect the overall balance of our health and the systems that maintain it.
Thyroid Surgery
Parathyroid Surgery
Endoscopic Inspection of the Throat and Voice Box
Salivary Gland Surgery
Tonsillectomy
Adenoidectomy
Head and Neck Cancer Evaluation and Surgery
Voice & Swallowing
Our voices can help us connect and communicate with the world around us. While speaking can seem easily achieved, it is really the work of several muscles and organs working together to achieve sound. If one of these muscles is strained or infected, the voice or swallowing can be impacted.
Vocal Cord and Voice Examination
Swallowing Therapy
Speech Therapy
Acid Reflux Testing
Providers at this location
Reviews
After spending half a day in the ER yesterday it was nice that a specialist locally worked me in quickly.
Staff was very professional and Dr. Rodriguez took a serious look at my issues and made great recommendations for moving forward. Highly recommend them for your ear nose and throat needs!